Pre-order online at 

WJFC apparel 



and collect from our uniform shop
at the 2018 WJFC Season Launch
Our uniform shop will be open in the morning. You will  be able to change sizes where needed and make new purchases. 
DO NOT forget to bring your old footy boots
, shorts and socks to our swap meet. Egg & bacon rolls and hot dogs will be available for a gold coin donation.  And don't forget to register!
Be a part of 'AFL Draft Testing' with your team including:
Goal kicking test 
Smartspeed 20m Sprint 
Vertical & Running Leap test
Dynamic X-modified Game 7x7
2km Time Trial Run (not all age groups)
When: Sunday 25th February 2018
Where: Warrandyte Football Club
(Meet your coach at the change rooms)
Session times for each age group are:
Colts & U15s – arrive at 

8am

 for 

8:20

 start
U13/U14/U15/U16 Girls & U14s – arrive at 

8:20am

 for 

8:40

 start
U11/U12 Girls & U13s – arrive at 

9am

 for 

9:20

 start 
U11s & U12s mixed – arrive at 

9:40am

 for 

10am

 start 
U10 Girls & U8/U9/U10s mixed – arrive at 

10:20am

 for 

10:40

 start 
**Participants must be registered for insurance purposes**
A uniform & boot swap will run on the day, so feel free to bring your 2017 gear down & swap it for your 2018 season
Mouth guards are essential when playing footy & mouth guard fittings will also be available
It's all about the kids . . .
Purchase all your club apparel online. We stock a large range of shorts, socks, hoddies, jackets and more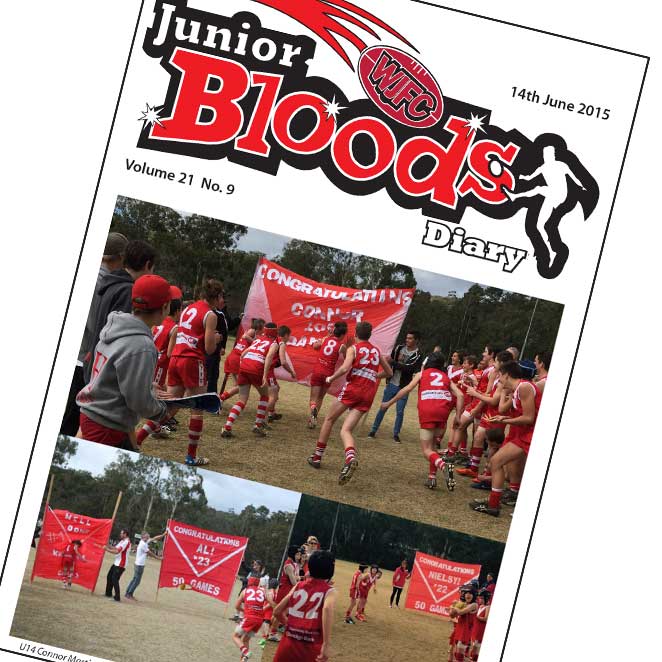 If you didn't get your copy at the game you can now view it online with our flipbook plugin – click on the image to view the latest Bloods Diary
Keep up to date with the latest fixtures, results and ladders. Yarra Junior Football League website displays all the latest information
Bloods Photo Galleries