We have the very talented Irene aka 'Cookie' from Platter Perfection catering for the Ladies High Tea on Saturday 30th June 12-3pm.
A delicious spread not to be missed…
Custom 
Footy Banners

Celebrate Milestone Games with a personalised banner for your child
Approx. 2.0m W x 1.2m H – mounted on timber poles for running through, just like the AFL
In Red & White –
Warrandyte's team colours
Cost: $120 ($20 refunded when timber poles are returned)
Payment: Cash only
Contact: Natalie Papez
Email: npapez@bigpond.net.au
Mobile: 0419 984 409
YJFL have recently fielded teams in the AFLVic Metro Junior Championships, in the Under 15 Girls, Under 15 Boys and Under 14 Boys. All players, including the U13 Boys and Girls Interleague squads, representing the YJFL should be extremely proud of their efforts and representation of the YJFL during the championships.
Three YJFL sides secured a spot in the Grand Finals, below are details of the games.
U15s
Saturday 23th June @ Bulleen Park, Bulleen
12.15pm- U15 Boys Division 1B 
– YJFL Vs SMJFL
2.30pm- U15 Boys Division 1A 
– YJFL Vs SMJFL
U14s
Saturday 30th June @ Eltham Central Park, Eltham
12pm U14 Boys Division 1B 
– YJFL Vs SMJFL
WJFC will be represented by Brady Poole in U15 Boys Division 1A and also Max Bell in U14 Boys Division 1B.
Please come and support all 3 sides in their respective Grand Finals.
Jake Carlisle at Warrandyte
Key Defender Jake Carlisle from the St Kilda Footy Club will be our guest at WJFC on
Wednesday 4 July at 6pm
This event has been organised by Yarra Valley Toyota and radio SEN,
who have been wonderful supporters of grass roots football for many years and we would like to thank them for that.
Jake will participate in running a training session for the Colts
between 6 pm and 6.45pm.
He will then take questions in the club rooms and sign autographs.
SEN will have a live cross to the station during this event.
There will be a sausage sizzle to raise money for our club – just a gold coin donation.
We would love to see as many of our members there as possible. All teams are welcome!
Join us for a social night out at the joint fundraiser for Warrandyte Netball Club & Warrandyte Junior Football Club to raise funds for both clubs.
Wear a hat or don't – but we have a great night lined up including a Silent Auction, lots of prizes, live music and a live auction.
It's all about the kids . . .
Purchase all your club apparel online. We stock a large range of shorts, socks, hoddies, jackets and more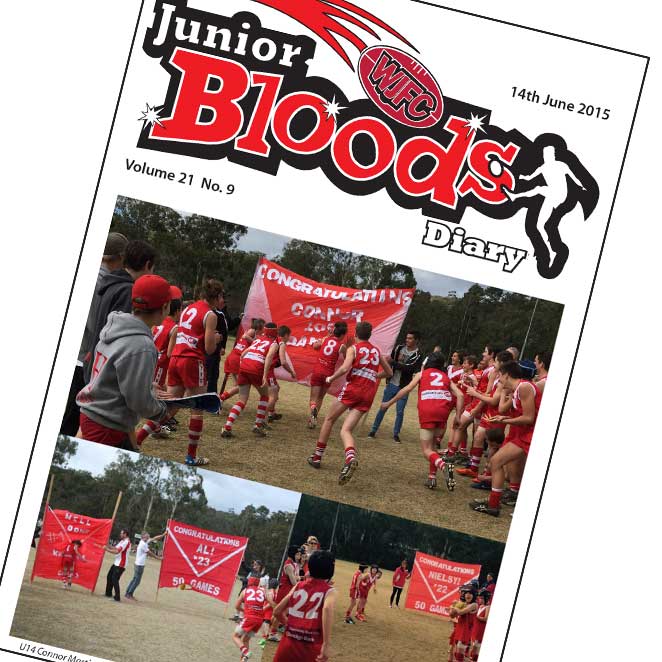 If you didn't get your copy at the game you can now view it online with our flipbook plugin – click on the image to view the latest Bloods Diary
Keep up to date with the latest fixtures, results and ladders. Yarra Junior Football League website displays all the latest information
Bloods Photo Galleries