Custom 

Footy Banners

Celebrate Milestone Games with a personalised banner for your child
Approx. 2.0m W x 1.2m H – mounted on timber poles for running through, just like the AFL
In Red & White –
Warrandyte's team colours
Cost: $120 ($20 refunded when timber poles are returned)
Payment: Cash only
Contact: Natalie Papez
Email: npapez@bigpond.net.au
Mobile: 0419 984 409
Please Note:
REGISTRATION for 2019 is ON HOLD until advised
We will let you know when registration is active
More details are available on our registration page
GO BLOODS!!!
YJFL have recently fielded teams in the AFLVic Metro Junior Championships, in the Under 15 Girls, Under 15 Boys and Under 14 Boys. All players, including the U13 Boys and Girls Interleague squads, representing the YJFL should be extremely proud of their efforts and representation of the YJFL during the championships.
Congratulations to the YJFL U14 side who won their Grand Final in the U14 Boys Division 1B
WJFC was represented by Max Bell in this Grand Final
– well done Max!
It's all about the kids . . .
Purchase all your club apparel online. We stock a large range of shorts, socks, hoddies, jackets and more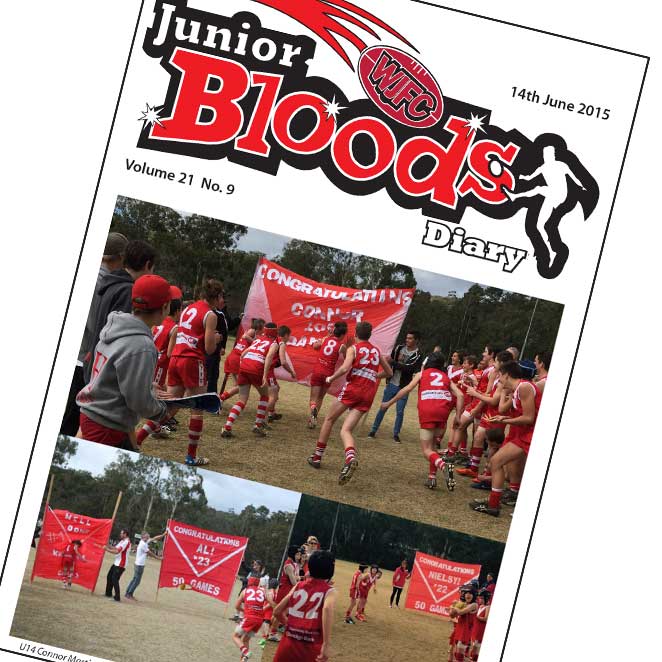 If you didn't get your copy at the game you can now view it online with our flipbook plugin – click on the image to view the latest Bloods Diary
Keep up to date with the latest fixtures, results and ladders. Yarra Junior Football League website displays all the latest information
Bloods Photo Galleries